How is WW1 remembered  today?
WW1 is remembered today for many inventions such as;
Poisonous gas, which was made from chloride gas. It began on the on 22 April 1915 when Germany poisoned the Belgian medieval town of Ypres, attacked with 6,000 steel canisters of chlorine gas.
War technology, new and more weapons were designed
The "broken faces",Modern surgery was born in the First World War, where civil and military hospitals acted as theatres of experimental medical intervention.
Blood banks,Was a discovery in 1914 that blood could be prevented from clotting if mixed with sodium citrate, plus the benefits of refrigeration, were huge breakthroughs that paved the way for blood banking.
Source A:  
This was a man who underwent reconstructive facial surgery after being wounded in the first world war.
What role to memorials,statues and poppies play in WW1?
Memorials, statues and poppies play a big role in WW1 because, the poppy came to represent the immeasurable sacrifice made by comrades and quickly became a lasting memorial to those who died in World War One and later conflicts. monuments and memorials show who were involved in the military units fighting on the Western Front battlefields and to many civilians who were caught up in the war and who lost their lives.
 Source B:Flanders Fields is a poem about all the soldiers who sacrificed themselves in the war
In Flanders Fields by John McCrae, May 1915 (poem)
In Flanders fields the poppies blow
Between the crosses, row on row,
That mark our place; and in the sky
The larks, still bravely singing, fly
Scarce heard amid the guns below.
We are the Dead. Short days ago
We lived, felt dawn, saw sunset glow,
Loved and were loved, and now we lie
In Flanders fields.
Take up our quarrel with the foe:
To you from failing hands we throw
The torch; be yours to hold it high.
If ye break faith with us who die
We shall not sleep, though poppies grow
In Flanders fields
Why is it important for us to commemorate WW1 in South Africa?
It is important for us to commemorate WW1 in South Africa because, the 'Great War', which began on 28 July 1914 lasted till 11 November 1918, produced a vast number of casualties and deaths  and similarly vast numbers of missing soldiers. South Africa entered WWI on 8 September 1914, on the side of the Allied Forces.During this time South Africa was a Union, and many soldiers just 14 years previously fought against each other in the Anglo-Boer War. During the First World War many of these old enemies fought side by side in the trenches of the "Western Front". South Africa sent both black and white soldiers of which all volunteered to fight. White soldiers did the fighting and black soldiers were used as logistic support. It is important for us to commemorate WW1 in South Africa because, some South Africans also fought in the war and most probably died.
Source C:This painting shows a smiling group of Africa soldiers. This source also shows how they would dress up in WW1.
What is being done around the world specifically to commemorate the centenary?
Most churches accross the country grow poppies as an act of remembrance for the centenary of World War 1
Source D: This article shows when England declares war on Germany during WW1.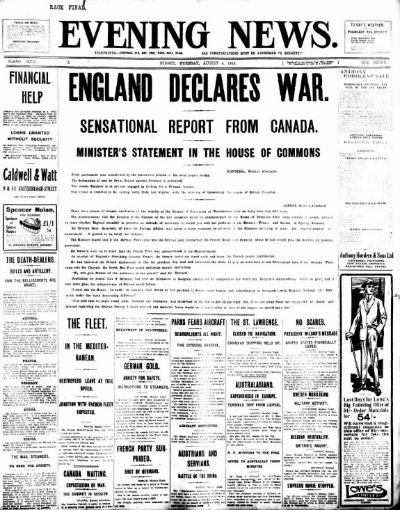 Done by Blake and Derrick